Refill Not Landfill – Chance to Win $25 in Monthly Drawing Each Time You Use a Refillable Mug
November 23 @ 8:00 AM

-

5:00 PM

|

Recurring Event

(See all)

Campaign runs until 4/17/24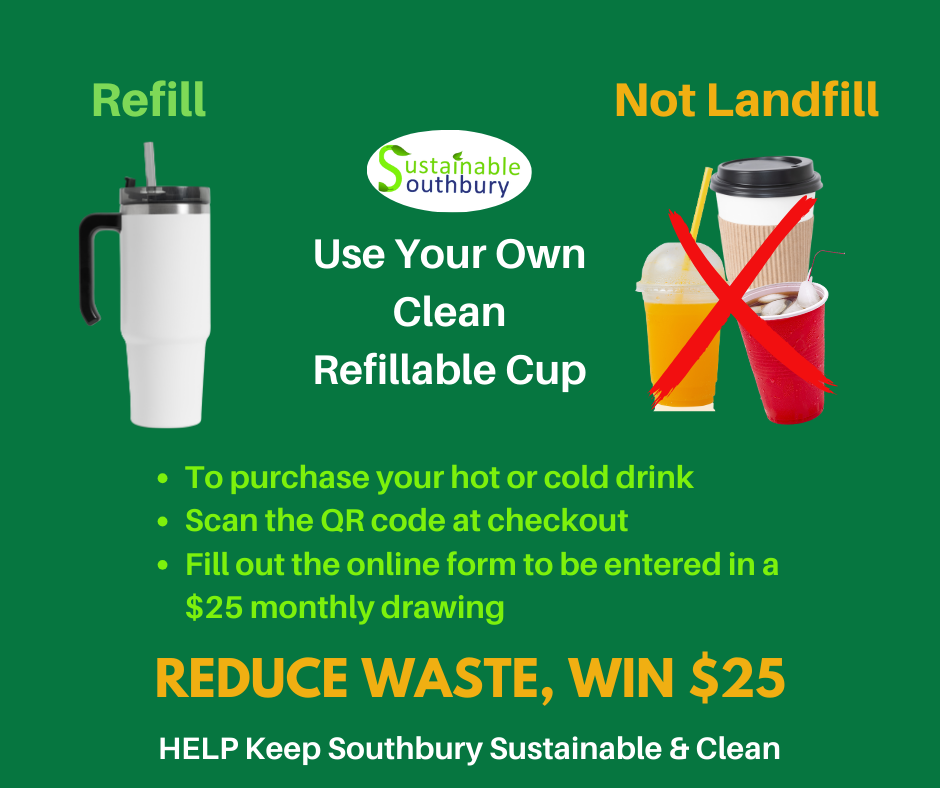 Sustainable Southbury Launches Refill NOT Landfill Campaign
Win $25 in Monthly Drawing Each Time You Use a Refillable Mug
The campaign's goal is to reduce single-use waste associated with drinking beverages. Each time you buy a hot or cold drink using a refillable cup/mug at a participating business, you can enter a monthly drawing to win $25! The monthly drawing is funded by Sustainable Southbury. The campaign started on October 18th and will run for 6 months.
Here Is How It Works
**Bring a clean, reusable cup or mug for refill to a participating local business.
**Using your phone, scan the Refill Not Landfill QR code next to the cash register; enter your name and email address in the entry form, and click the box next to the name of the business where you purchased your beverage. Do this each time you refill – you have many chances to win!
The following businesses are partnering with Sustainable Southbury in this campaign: Brightside Nutrition, Heritage Deli & Café, Hudson's Cafe & Bistro, Laurel Diner, Main Street Convenience, Main Street Deli, Mikee's Place, Nardelli's Grinder Shoppe, Patty's Pantry.
Most Southbury businesses accept refillable cups/mugs even if their name does not appear above. If you frequent those businesses, please use a refillable cup/mug; your coffee stays hotter, and your cold drinks maintain their chill. You can encourage your favorite business to partner with us so you can have a chance at winning $25.
Businesses can sign up to participate in the program by sending an email to [email protected] with the Subject: Refill Not Landfill.
Visit our website for more information and updates to the program: www.sustainablesouthbury.org/refill-not-landfill
Why Are We Doing This?
Connecticut is battling a huge solid waste problem. Did you know we are shipping much of our trash to other states? Hauling costs are estimated to increase significantly. Every effort needs to be made to reduce our volume of trash and its environmental impacts.
Implementing the use of refillable cups/mugs eliminates a source of trash that can remain in the environment for many years. In the United States alone, 50 billion disposable coffee cups are used annually. Coffee cups are lined with plastic to reduce leakage; they cannot be recycled; they must be disposed of as trash. The standard polyethylene-lined paper cup takes 20 years to decompose. Used plastic cups can't be recycled into new plastic cups; they end up in the trash and last 450 years in the environment.