Southbury's 350th Anniversary Commemorative Gala
November 18 @ 5:00 PM

-

9:00 PM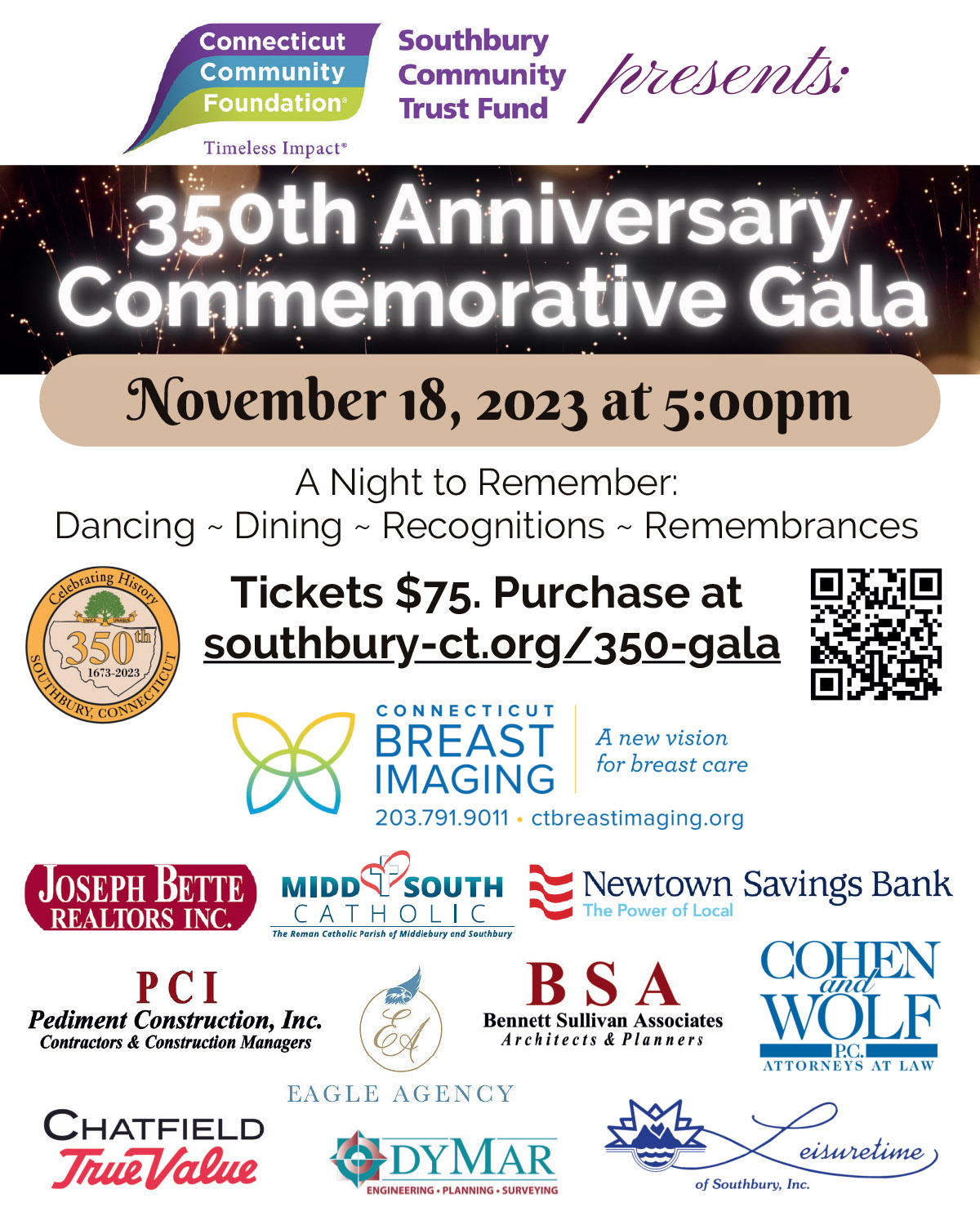 A Night to Remember
Southbury, CT – The Southbury Community Trust Fund at Connecticut Community Foundation is the presenting sponsor of the Town of Southbury's 350th Anniversary Commemorative Gala. It promises to be a night to remember as the community gathers for dining, dancing, remembrances and recognitions. The night also serves as a fundraiser for the Southbury Historical Society.
The 350th Anniversary Commemorative Gala will be held on November 18th at 5:00pm at the Wyndham Southbury at 1284 Strongtown Road, Southbury, CT 06488. Tickets are $75.00 and include a three-course dinner. For information and to register for tickets go online to: https://southbury-ct.org/350-gala.
Guests will scroll down memory lane in an evening dedicated to remembering its history and celebrating the present. The evening will feature the music of The Peter Randazzo Quartet; a video retrospect; the 350th Commemorative Poem recited by its author, Southbury Poet Laureate Faith Vicinanza; yarns of yesteryear; a musical performance from Broadway's Golden Age; presentation of the inaugural award for Lifetime Achievement in the Arts to painter and muralist David K. Merrill, and the unveiling of the 350th Anniversary Community Quilt; and guest appearances.
The night is presented by Southbury Community Trust Fund at Connecticut Community Foundation, with the support of Platinum sponsor Connecticut Breast Imaging. Further support comes from Gold sponsors: Joseph Bette Realtors, Newtown Savings Bank, Chatfield's True Value Hardware, Cohen and Wolf, P.C., Heritage Eagle, LLC, Midd-South Catholic Church, Bennett Sullivan Associates, Pediment Construction, Leisuretime of Southbury and Dymar, Inc.
Silver: Southbury Chamber, Jack Zazzaro, DMD, EG Homes, Apple Real Estate, Giuliano, Richardson & Sfara, Ion Bank, Southbury Plaza, The Watermark at East Hill, Lucas Local Oyster Bar & Restaurant/Monty's Downtown, Middlebury Furniture and Home Design. Bronze: TR Paul, Senor Panchos, Law Office of Michael Carrington, Mark Greenberg Real Estate, O&G Industries, Ken and Mary Korsu, Wyndham Southbury, Southbury Neighbors Magazine, Southbury.com, Prime Publishers, Inc. – Voices and Town Times Newspapers.
The 350th Anniversary Commemorative Gala is the capstone in a year-long series of events that have aimed to celebrate 350 years of community, culture and history, highlighting the past and progress of the one and only Southbury.
Proceeds from the evening benefit the Southbury Historical Society www.southburyhistory.org.
###
The 350th Anniversary Steering Committee is John Dwyer and Kevin Bielmeier, co-chairs; Brian Jones, vice-chair; Justin Bette, Lynn Dwyer, Melinda Elliott, Michael Ganem, Kara Kenney, Mary Korsu, and Gosia Liedlich.
For information on this, and all 350th events, visit www.southbury-ct.org/350